Syntax's New Years Eve Party
Syntax will be ringing in the new year with a night of live, all-original music with Number No., Zero Day Exploits, Higher Intentions, and Resurrected Holmes!
First Friday Art with Amy Ward
Amy Ward is a painter, Greeley native, and Syntax's featured artist for the second time this January! Amy will be available for a meet and greet on January 5th, and her art will be on display in the tasting lounge for the duration of the month. Don't miss it!
Amy's artist's statement: "I live in Fort Collins but was born and raised in good ol' Greeley, Colorado. I'm mainly an abstract artist working in different mediums and have enjoyed all forms of art since I was little. For the body of work, I very rarely have a plan of action when starting a piece of work, I put on some good tunes to go with whatever mood I may be in and let the paint take over. When I do have a plan, it never works out like I visioned but the outcome and time to get there is always fun. Enjoy."
Get ready for a night of laughter when fabulous host Tobias Livinston brings the return of Syntax favorites, with nationally touring comic John Tole, Featuring Kyle Pogue.
Doors open at 7 p.m. Show begins at 8 p.m.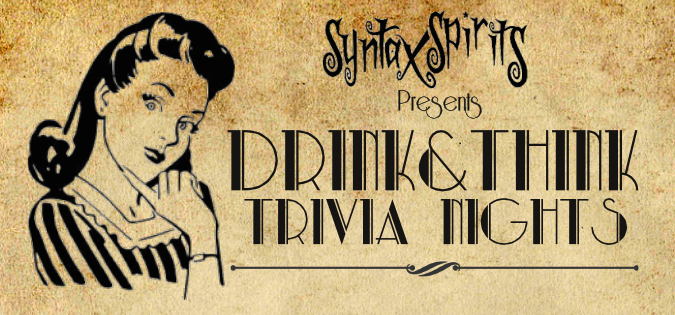 Drink&Think Trivia
Trivia nights are good fun with with our fabulous hosts, Currier Inn owner and British man-about-town Derek Boulton and our very own Colorado-grown Still Mistress, Heather Bean!
Sip on some knowledge and a cocktail or two. Participation is free and pizza is provided. Win spectacular goodies from the bar!
7:30 p.m. every 3rd Friday of the month.
Synner's Potluck: Russian
Cocktails and diverse food once a month…what could go wrong? Bring a dish and join us! Feel free to be creative, themes are loose suggestions. January's theme is Russian.
6:30 p.m. every 3rd Sunday of the month.
Another great line-up up of comedy with host Tobias Livingston and headliners Anthony Bartolo, Will Mierzwa, and Jacob Hamel.
Doors open at 7 p.m. Show begins at 8 p.m.